Norv Turner on Sirius radio's "Late Hits"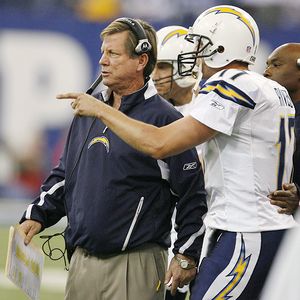 Picking up where the team left off:
It's a good feeling and it's a fair statement. The only thing I would add to it is different from a year ago we have a good number of young, emerging players. This camp is critical for them because they're fighting for playing time. They're fighting for playing time in backup roles; they're fighting for playing time in our substitution packages. When you get young guys with high energy and they've had a taste of it –- Jyles Tucker is a great example –- it does get exciting. We had out first practice in pads (Sunday) and there were guys flying around. There were a lot of young guys who made a very good first impression.
Meeting the high expectations:
I've been in that situation, actually. In 2000 with the Redskins, we signed a lot of older guys and I think the expectation was unrealistic because a lot of those guys were the same guys, but they weren't quite as good of players as they were earlier in their careers. This feeling on this team, I think our guys have a great feeling for what we got done last year, particularly in the second half. They feel like it's something we can build on. I feel L.T. said it best the other day when I asked him about expectations. Certainly, the expectation at this level is to go win a championship, be a playoff team, go do all those things. But the expectation he talked about was to be the best we can be. If you can do that, I think you can live with yourself at the end of the day.
Closing the gap with the elite teams:
Everyone wants to close the gap with New England and close the gap with Indianapolis. You can get ahead of yourself. We've got to go out and be a good blocking team; we've got to be a good tackling team; and we've got to take care of the football. We led the League in creating turnovers last year so we've got to be creative in getting the ball away from people. You've got to do those things to become a good team. In camp, that's the great thing for coaches. This time of year, you're not focusing on a team, you're focusing on yourself. As we go through this training camp, we'll zero on some teams we know we'll have to beat to get where we want to go.
It's easy to look at them on paper and say "these guys are good young players." But if we don't give them the opportunity to practice and go out here and build on what they've done as young players and then give them a chance in preseason to really go out and play and get experience and excel, then that's where they stay, they stay backup players. We need to get them to where they can play not only if we have an injury, but where they can go spell guys or they can go give a guy a break for a series or three or four plays. That's where your depth really starts to take effect.
Philip Rivers and his injury rehab:
I've never seen anyone do what he's done in terms of the rehab and his emphasis not only on the knee, but he's there and he's working in the weight room. He really dedicated himself. He's always been conscientious in there but he's really been committing himself. He's 100 percent ready to go and he's throwing the heck out of the ball. I think people misgauge his arm strength anyway, but there's no question he's got more on the ball then he's ever had in the past. He's getting ready to have his best year. He really is accurate. It's different than anyone I've been around because he's able to adjust his release and keep that kind of accuracy.
In this day and age, with all the different zone blitzes and all the different rushes and all the guys reaching and knocking the ball down, he keeps his accuracy. He can throw around people and he can throw over the top. He can mix up the release to help him perform.
Nick Hardwick and the state of the center position:
Nick is on schedule. The schedule gives him a chance to be ready for when the season starts. I don't know if he'll be able to do that but I know he'll be able to play soon after that. We signed Jeremy Newberry because certainly if we have a setback with Nick it would be really hard on us. You have to have two centers. Cory Withrow played a year ago when Nick couldn't play. Right now, Cory and Jeremy and taking all the reps. They're rotating, where one guy goes with the starters one day and the other guy goes with the starters the next day. We're getting them both experience and if at some point Nick is not ready, we'll have to make a decision.
Vincent Jackson's development:
It's funny when you look at the tape and watch it in sequence. We cut out tape and looked at every ball that was thrown to Vincent Jackson. As you watch the year go on, you see him get better and you also see Philip get better. You see them get a rhythm with each other. The last six or eight games, they made a lot of big plays up the field, particularly in the playoffs. Vincent was outstanding. He's such a big target up the field. He's a big-bodied guy so he can protect himself. I really think he's going to have an outstanding year. He's made a great catch every day in practice. I think you get that feeling for each other –- this is Vincent and Phillip's third season together –- and Philip knows Vincent is going to catch the ball, he's going to protect himself, and he's not going to allow the ball to be intercepted, so Philip's throwing it to him sometimes where maybe in the past he wouldn't have thrown it to him.
Competition at backup running back:
I'm excited to see out guys in the preseason because I think that's where you really find out about runners. You can see their vision and you can see their footwork here on the practice field, but it's getting into the games and seeing how they manage their games and how they get positive yards and how they keep from having bad plays. Darren Sproles is working there. Obviously, Jacob Hester is working there. Our rookie, Marcus Thomas, is working there; he's had some flashes. And (Eldra) Buckley is working there. We're going to have some entertaining, exciting preseason games getting to look at those guys.
Drafting of Eric Weddle:
You can't say enough about what our scouting personnel group –- starting with A.J. Smith and all the way through –- what they've done through the years. The one recurring theme, and I'm not giving away secrets because I think everyone in the League knows it, but our guys go out and find players who are good football players. I know it sounds simple, but they don't get caught up in all the numbers and the "this guy has to be this tall or this fast." They say, "Hey, is this guy a really good football player?" Eric Weddle was one of the funnest guys to watch in college. He did everything. He made plays and I'm glad we have him. He was a force in the playoffs.
Chargers' training camp preparation:
We try to have certain things we're going to do every day. Obviously, in the afternoons we're in full pads. We're going to have a good inside run period where we don't have receivers – we don't have defensive backs and we're working hard on the running game. After that, we have segments where we work on something a little different. This morning, we had a lot of red zone work. (Monday) we're working on a two-tight end package. In the afternoons when we get into team periods, it's more of the second-and-long and third-down type situations. We put some pressure on our third-down defense and put some pressure on our quarterbacks.